Looking upstream - several identical suspension bridges
cross the he Allegheny River to connect Pittsburgh's
downtown with the riverfront park and stadiums
As a resident of Cleveland, I always hesitate when I consider writing (or talking) about Pittsburgh. I hesitate because my Cleveland friends don't appreciate my ravings about Pittsburgh. (The last time I wrote about Pittsburgh was
after the marathon last year
and I already took a lot of flak for that.) In their defense, my friends forget I'm not FROM Cleveland. I wasn't born a Browns fan and I don't hate the Pittsburgh Steelers.
After writing that, I feel the desire to rant about how ridiculous these sports rivalry things are. But I'm married to a die-hard Ohio State University fan (with two degrees from there including his PhD), and my husband Jim has an unending supply of quotes by famed OSU football coach Woody Hayes about his hatred of Michigan - and not only the University, but the entire STATE of Michigan. For instance, upon learning from an assistant that they were running out of gas returning from a recruiting trip in the state of Michigan, Woody was alleged to have said the following: "We'll coast and PUSH this goddam car to the Ohio line before I give this state a nickel of my money!"
So, to my Cleveland friends re: Pittsburgh: ok OK, I GET it. I just don't share it. For many reasons I'll go into.
Pittsburgh and Cleveland have an amazing number of similarities. They're both blue-collar steel towns. In both cities you can find several great institutions of higher learning. Both cities have outstanding cultural institutions that were funded by wealthy industrial families of the American Renaissance. When I rave about Pittsburgh's cultural institutions, I could just as easily be raving about Cleveland's (and I do). And yes, both cities have die-hard major league sports fanatics.
One thing I love about Cleveland is its location on the shores of Lake Erie. Ironically this is the reason Cleveland DOESN'T have one of the things I REALLY love about Pittsburgh - the topography. Pittsburgh's intrinsic beauty lies in its location. Downtown Pittsburgh is formed by the junction of three rivers - the Ohio, the Monongahela and the Allegheny. Surrounding this three-river valley are steep hills with buildings and residential communities built right into them. It often reminds me of San Francisco. One of the things I look forward to most when visiting Pittsburgh is making my way up to the the Mount Washington area (Grandview Avenue) and looking down at "the city of bridges":
Downtown Pittsburgh from Grandview Avenue
Looking up the Monongahela side of Pittsburgh
The junction of the three rivers
I've been to Pittsburgh more times than I can count. Unlike Detroit (you can read my
thoughts on Detroit in blog form
from earlier this year), we visit Pittsburgh on a regular basis to go to the art museums. We don't usually stay overnight, but when we do, I always bring my running shoes and get up early the next day to see the area.
On Thursday night, I once-again found myself in Pittsburgh, this time for a music gig -
The Decemberists
. My husband Jim and I decided to stay an extra day and booked a hotel downtown at the edge of what's known as the "Strip District" - the historic (and very cool) market district. Because of our location, my morning run was along the riverfront trail - the Three Rivers Heritage Trail - a route I know very well because I've run it before as part of one of my favorite races, the Pittsburgh Triathlon.
Heinz Field
While I was out running, I gave some thought to why this industrial steel town with a decrepit old riverfront has become a favorite place of mine. I can't even remember the first time I saw Pittsburgh. And I certainly can't count how many times I've been there. And, as previously stated, many of my Cleveland friends wouldn't be caught dead stepping foot in Pittsburgh. So why do I love it so much?
The first thing I came up with - while running - is the amount of care that has gone into revitalizing the riverfront. Pittsburgh's riverfront has undergone a revolution over the last 10-20 years. Pittsburgh's legendary double-duty Three Rivers Stadium was torn down and replaced by Heinz Field - where the Steelers play - and PNC Park - where the Pirates play. Both stadiums lie directly across the Allegheny River from downtown Pittsburgh. They sit majestically above a beautiful riverfront park along the waterfront. This park is along the trail on which I was running.
PNC Park - the architecture is a beautiful tribute
to the steel town's history
The first time I ever ran on the trail was in the 2002
Pittsburgh Triathlon
. The race was organized by
Friends of Riverfront
, a group that has been working to clean up the riverfront and expand and maintain the trail. Their work has paid off. The first time I did the triathlon (2002), water temperature in the Allegheny River was over 80 degrees F, but we were "encouraged" to wear wetsuits because of the bacteria count. The situation had changed drastically by the last time I did the triathlon - in 2009. The trail has been extended much further upstream, the riverfront park was dotted with public art and historical markers and the water was immensely cleaner. Pittsburgh is a city that cares about its image, its heritage and its natural resources. I'd like to see Cleveland do more to celebrate its own industrial, cultural and sports history the way Pittsburgh does on its waterfront.
After my run, Jim and I spend a few hours shopping in the Strip District, grabbed a bite at our favorite Pittsburgh eating and drinking establishment,
Piper's Pub
, and took a stroll down to a place Jim always wanted to visit,
Pittsburgh Guitars
. As we were driving home, I recalled some of our past experiences in this city.
One confusing mess of bridges & highways
One of my earliest trips to Pittsburgh was when Jim's father had miraculously landed two tickets to the Major League Baseball All-Star game at Three Rivers Stadium. I don't remember much about that trip except that it was a very late night and trying to get out of town was very confusing. It reminded me of another major complaint my friends have about Pittsburgh - finding one's way around. It's a fair complaint (it's almost as difficult as Boston). There's an inherent difficulty in navigating a wedge-shaped area between two rivers with a seemingly-infinite number of expressways and bridges. Anyone who doesn't live in Pittsburgh usually ends up lost (or not where they wanted to be with no idea how to get where they want to be). It's become an accepted part of every trip we take to Pittsburgh - leaving extra time for getting lost. In fact, I was almost disappointed that we made it into town and to our hotel without incident this time. But we made up for it on Friday when we ended up accidentally driving out of town while trying to cross the Monongahela River to get to Piper's on Carson Street.
Despite the navigational difficulties, driving into Pittsburgh can be an awe-inspiring experience. Approaching the city on I-376 through the Fort Pitt Tunnel will give you one of the most stunning view ever of a city. Coming out of the tunnel always gives me the feeling that I'm descending over Pittsburgh by air - the vantage point gives a full view of downtown, all three rivers and all the bridges. I still remember the first time we drove that route - my heart almost stopped upon suddenly seeing the magnificent panorama. Do it sometime. You won't be disappointed. Unfortunately, we don't always approach Pittsburgh from I-376 - it usually depends on our specific destination and how much time we have.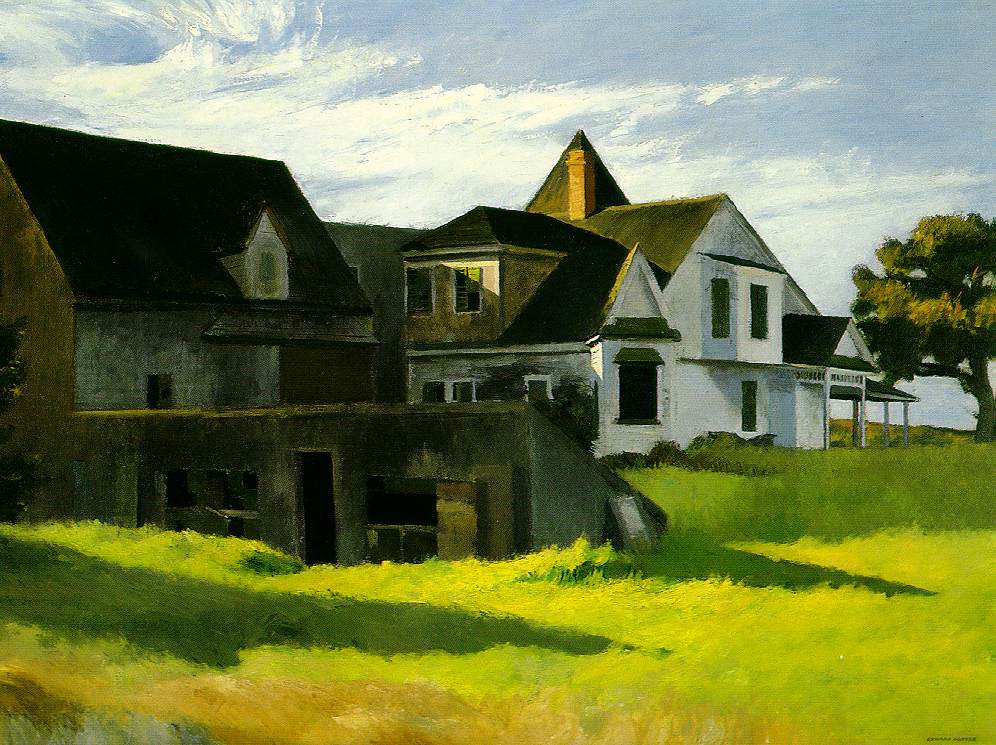 Edward Hopper's "Cape Cod Afternoon"
at the Carnegie Museum of Art
(I bet you thought I'd post a Warhol)
This brings me to another reason I love Pittsburgh and one of the main reasons I like to go there repeatedly: Art. After a short drive, I can be standing in front of a Warhol. Or a room of Warhols.
An entire museum of Warhols
. Even better, I can be at the
Carnegie Museum of Art
standing in front of my favorite Edward Hopper Painting, "Cape Cod Afternoon." There are numerous art and cultural establishments in and around the city of Pittsburgh - the four Carnegie Museums are only a small fraction of it. Yes, I know Cleveland has an
awesome art museum.
(Afterall, I am a member.) But so does Pittsburgh. And it's only two hours away. (And Cleveland Museum of Art members get full admission reciprocation, i.e., it's free!)
And finally, I always like meeting people in Pittsburgh. We never get scorned upon revealing we're from Cleveland. Having traveled to Pittsburgh for a concert this time, it was ironic that one of the employees at Pittsburgh Guitars had the distinct impression that Cleveland "gets all the best gigs." Jim and I disagreed, but he backed it up with tales of his travels north to our fair city to see concerts at our own
Beachland Ballroom
(arguably the best music venue in the greater Cleveland area).
It made me think... could my whole love-of-Pittsburgh be a case of "the grass is always greener"? I don't know, but for now, I'm just glad we have more than one city to choose from.